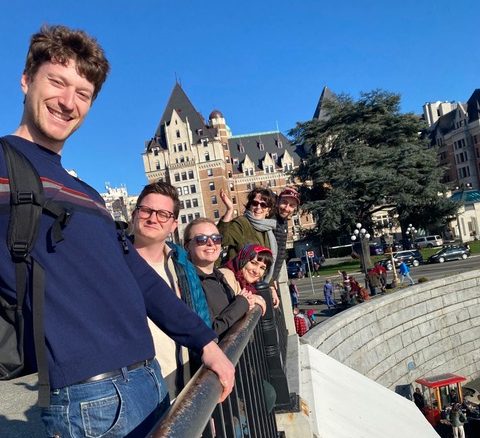 Last week graduate students from the Marine Mammal Research Unit attended their first in-person conferences in two years!
PhD Candidate Rhea Storlund attended the Okanagan Cardiovascular & Respiratory Symposium at the Silver Star Mountain Resort and presented her research on sea lion hearts to an audience of human-heart researchers. That same weekend, Masters students Julia Adelsheim, Josh McInnes, and Taryn Scarff went to PEEC (the Pacific Ecology and Evolution Conference). The PEEC is typically held at Bamfield Marine Sciences Center, but due to covid and difficulty of travel, it was held in downtown Victoria, BC on Vancouver Island. This conference focuses on early career scientists (typically late in undergraduate or in graduate school) and the attendees are 95% students. We asked each student to reflect on their experiences and what they took away from their conference weekends!

Rhea Storlund, PhD Candidate:
"What do you do at a human heart and lung conference when you study sea lions? Talk about marine mammal hearts, of course!
I recently attended the Okanagan Cardiovascular & Respiratory Symposium at the scenic Silver Star Mountain Resort. Between snowshoeing and hot tub sessions, I learned how the heart remodels with pregnancy and exercise, and what happens when children travel to high altitudes. When it was my turn to talk, I described the many cardiovascular adaptations that marine mammals have developed; and how they have broad, flat shaped hearts, with larger blood volumes, and large, compliant aortas.
After the presentation, it was clear that what really piqued everyone's interest was the dugong heart shown in the above drawing. It is particularly special because the apex of the heart splits apart unlike most mammal hearts.
In all, it was a fantastic learning and networking experience."
Rhea Storlund is a Phd Candidate at University of British Columbia's MMRU
Julia Adelsheim, MSc student:
"I had an excellent time at PEEC sharing a bit of my Master's work with a larger audience than my lab-mates and thesis committee.
I am building a bioenergetic model (a type of mathematical representation) of a sea otter used to determine their potential energy requirements based on the type of prey they are eating. It was fun to talk to the other students studying sea otters and see how our research could fit together and be useful to each other! I also enjoyed fielding questions that allowed me to elaborate a bit more about my project than my three-minute presentation permitted.
One thing that I really took away from this conference was how nice it is to be in a group of supportive colleagues with a strong collaborative spirit. Because it was mostly students, it didn't feel too intense and was great practice for presenting at larger conferences down the line!
This year's PEEC will stand out for me not only because it was my first time presenting at an in-person conference, but also because I saw my very first wild killer whales while on the ferry crossing from Vancouver to Victoria! So exciting!"
Julia Adelsheim is a Graduate Student at University of British Columbia's MMRU

Taryn Scarff, MSc student:
"I attended the mid-March Pacific Ecology and Evolution Conference (PEEC) in Victoria, BC along with Julia and Josh in the Marine Mammal Research Unit! PEEC is a student led conference with a really supportive, low-pressure environment that gave us an opportunity to share our research.
It was so great to be back in person, listening to other students' presentations and learning about research projects going on at other Universities!  I gave a short presentation on transient killer whales in BC waters, which was fitting as we saw two different groups of transient killer whales on the ferry over to Victoria!
Overall, it was a great weekend, and it makes me excited for more in-person conferences throughout the upcoming year."
Taryn Scarff is a Graduate Student at University of British Columbia's MMRU

Josh McInnes, MSc student:
"On March 19th and 20th, I attended my first PEEC to give a twelve-minute talk on my research involving transient killer whales off the California and Oregon coasts. The conference highlighted numerous research studies involving the flora and fauna of marine ecosystems in the Pacific Northwest.
The highlight for me was watching my colleagues present their research findings on the species they focus on. In addition, I enjoyed the opportunities PEEC provided for socializing and connecting with fellow scientists."
Josh McInnes is a Graduate Student at University of British Columbia's MMRU
~
Conferences are an important opportunity to share research and collaborate with other scientists! We are looking forward to more conferences coming up later this year, including a virtual student conference being hosted by our lab: the Northwest Student Chapter of the Society for Marine Mammalogy Conference, which gives the MMRU students another chance to present their research at various stages within their projects and receive feedback from students and professors from other institutions in the Pacific Northwest. This coming August we will also attend the Society for Marine Mammalogy Conference in West Palm Beach, Florida, USA; virtually and some in person! So much to look forward to at the MMRU!