MMRU conducts research of the highest standards to enhance marine mammal conservation and reduce conflicts with human uses of our shared oceans
---
Marine Mammal Research News: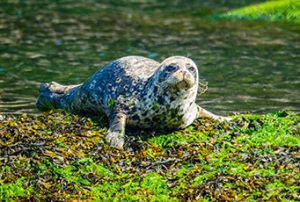 ---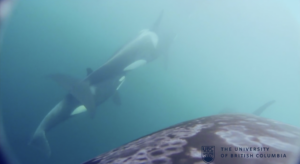 SWIMMING WITH THE POD
Sneak peak into the lives of killer whales
UBC researchers captured some amazing underwater video this week from the back of a killer whale showing a pod of killer whales travelling and interacting together. Read Article 
---
Satellite telemetry and time-depth recorders are providing new and surprising insights into the secret lives of bowhead whales
---
A Window into the Lives of Resident Killer Whales
This summer, a team of researchers from the University of British Columbia, together with the Hakai Institute, set out to determine how fish-eating killer whales find their food, and whether there is a shortage of Chinook salmon available to killer whales in the Salish Sea.  Here is a peek into what the researchers saw.
---
 RECENT PUBLICATIONS

2020

Growth and development of North Pacific gray whales (Eschrichtius robustus).
Agbayani, S., S.M.E. Fortune and A.W. Trites. 2020.
Journal of Mammalogy 101:742-754.

abstract
Understanding variability in growth patterns of marine mammals provides insights into the health of individuals and status of populations. Body growth of gray whales (Eschrichtius robustus) has been described for particular life stages, but has not been quantified across all ages. We derived a comprehensive growth equation for gray whales by fitting a two-phased growth model to age-specific length data of eastern North Pacific gray whales that were captured, stranded, or harvested between 1926 and 1997. To predict mass-at-age, we used the allometric relationship between mass and length. We found that on average (± SD), calves were 4.6 ± 0.094 m and 972 ± 27 kg at birth, and reached 8.53 ± 0.098 m and 7,645 ± 162 kg by the end of their first year of life (n = 118). Thus, calves almost double (2×) in length and octuple (8×) in mass while nursing, and are effectively about two-thirds of their asymptotic adult length and one-third of their maximum mass when weaned. The large sample of aged individuals (n = 730) indicates that gray whales live up to ~48 years and have a life expectancy of < 30 years. Adult females attain a mean (± SD) asymptotic size of 13.2 ± 0.054 m and 20,706 ± 249 kg, while the smaller males average 12.6 ± 0.054 m and 19,812 ± 249 kg at ~40 years of age. Females are thereby ~4% longer and heavier than males. These age-specific estimates of body size can be used to estimate food requirements and assess nutritional status of individuals.

keywords eastern gray whale, growth curves, length, life expectancy, longevity, mass, morphometrics, Putter model, sexual dimorphism

---

Harbour seals responded differently to pulses of out-migrating coho and Chinook smolts.
Allegue, H., A.C. Thomas, Y. Liu, and A.W. Trites. 2020.
Marine Ecology Progress Series 647:21-227.

abstract
There is increasing evidence that predation by harbour seals on out-migrating salmon smolts may be responsible for the low return of adult coho and Chinook salmon in the Salish Sea. However, little attention has been given to understanding where and when this predation occurs, and the extent to which it might be conducted by few or many seals in the population. We equipped 17 harbour seals with data-loggers to track seal movements, and used accelerometry to infer prey encounter events (PEE) following the release of ~384,000 coho (May 4th) and ~3 million Chinook smolts (May 14th) into the Big Qualicum River. We found a small proportion (5.7%) of all PEE occurred in the estuary where salmon smolts entered the ocean-and that only one-quarter of the seals actively fed there. PEE counts increased in the estuary after both species of smolts were released. However, the response of the seals was less synchronous and occurred over a greater range of depths following the release of the smaller-bodied and more abundant Chinook smolts. Harbour seals feeding in the estuary appeared to target coho smolts at the beginning of May, but appeared to pursue predators of Chinook smolts in mid-May. PEE counts in the estuary increased as tide height rose, and were higher at dusk and night-especially during full moonlight. Such fine-scale behavioural information about harbour seals in relation to pulses of out-migrating smolts can be used to design mitigation strategies to reduce predation pressure by seals on salmon populations.

keywords predation, salmon, harbour seals, coho, Chinook, data-loggers, biologging, accelerometry, accelerometers, prey encounters, estuary, size selection, mitigation, PIT tags

---

Prey composition impacts lipid and protein digestibility in northern fur seals, Callorhinus ursinus.
Diaz Gomez, M., D.A.S. Rosen, I.P. Forster and A.W. Trites. 2020.
Canadian Journal of Zoology 68:681-689.

abstract
Pinnipeds have specific macronutrient (protein, lipid) requirements to satisfy physiological functions, yet little is known about how diet characteristics affect macronutrient digestibility. We measured relative and absolute lipid and protein digestibility in six female northern fur seals (Callorhinus ursinus (Linnaeus 1758)) fed eight experimental diets composed variously of four prey species (Pacific herring (Clupea pallasii Valenciennes in Cuvier and Valenciennes 1847), walleye pollock (Gadus chalcogrammus Pallas 1814, formerly Theragra chalcogrammus (Pallas 1814)), capelin (Mallotus villosus (Müller 1776) and magister armhook squid (Berryteuthis magisterial (Berry 1913)). We quantified how digestibility was affected by proximate composition of the diet (%lipid or protein), levels of food mass and macronutrient intake, and tested for any potential benefit of multi-species diets. Overall, digestibility of both protein and lipid were high across diets, although macronutrient retention of lipids (96.0–98.4%) was significantly higher than protein (95.7–96.7%) for all but the two highest protein diets. Increased levels of protein intake resulted in increased protein retention, but decreased lipid digestibility. There was no evidence that mixed-species diets provide greater macronutrient digestibility over single-species diets. The results suggest that high to moderate lipid diets are more beneficial to northern fur seals as they lead to increased levels of lipid retention without large decreases in protein digestibility. This raises concerns that dietary factors may be contributing to the population declines of northern fur seals in the Bering Sea.

keywords Northern fur seal, Callorhinus ursinus, diet composition, macronutrients, lipid digestibility, protein digestibility

---

Seasonal diving and foraging behaviour of Eastern Canada-West Greenland bowhead whales.
Fortune, S. M. E., S. H. Ferguson, A. W. Trites, B. LeBlanc, V. LeMay, J. M. Hudson and M. F. Baumgartner. 2020.
Marine Ecology Progress Series 643:197-217.

abstract
Climate change may affect the foraging success of bowhead whales Balaena mysticetus by altering the diversity and abundance of zooplankton species available as food. However, assessing climate-induced impacts first requires documenting feeding conditions under current environmental conditions. We collected seasonal movement and dive-behaviour data from 25 Eastern Canada-West Greenland bowheads instrumented with time-depth telemetry tags and used state-space models to examine whale movements and dive behaviours. Zooplankton samples were also collected in Cumberland Sound (CS) to determine species composition and biomass. We found that CS was used seasonally by 14 of the 25 tagged whales. Area-restricted movement was the dominant behaviour in CS, suggesting that the tagged whales allocated considerable time to feeding. Prey sampling data suggested that bowheads were exploiting energy-rich Arctic copepods such as Calanus glacialis and C. hyperboreus during summer. Dive behaviour changed seasonally in CS. Most notably, probable feeding dives were substantially shallower during spring and summer compared to fall and winter. These seasonal changes in dive depths likely reflect changes in the vertical distribution of calanoid copepods, which are known to suspend development and overwinter at depth during fall and winter when availability of their phytoplankton prey is presumed to be lower. Overall, CS appears to be an important year-round foraging habitat for bowheads, but is particularly important during the late summer and fall. Whether CS will remain a reliable feeding area for bowhead whales under climate change is not yet known.

keywords Climate change, zooplankton, prey availability, foraging behavior, biologging, state-space model, bowhead whale, copepods, Calanus

---

Body growth of North Atlantic right whales (Eubalaena glacialis) revisited.
Fortune, S. M. E., M. J. Moore, W. L. Perryman and A. W. Trites. 2020.
Marine Mammal Science. DOI: 10.1111/mms.12753

abstract
Knowing size‐at‐age is important for determining food requirements and making inferences about the nutritional status of individuals and their populations. Accurate growth curves are also needed to quantify drug dosages to treat wounded or entangled animals. However, body sizes are often based on small numbers of measured animals that must be improved as new data become available. We updated an existing body growth model for North Atlantic right whales (NARWs) using new data from dead animals and from older individuals. Our models indicate that NARWs attain mean lengths and weights of 4.3 m and 1.0 mt at birth, and 13.1 m and 31.7 mt when sexually mature. Calves more than double their length and attain nearly three‐quarters of their asymptotic adult size during their first year of life. Overall, our length estimates agreed well with previous estimates, but our mass‐at‐age values were considerably higher. These differences revealed that necropsy data used alone in allometric models underestimate mass due possibly to several of the stranded animals in the database having been chronically entangled and in poor body condition. Augmenting the database with healthier individuals, such as harvested North Pacific right whales, yielded mass predictions that reflect both healthy and unhealthy individuals.


---

Age-and sex-specific movement, behaviour and habitat-use patterns of bowhead whales (Balaena mysticetus) in the Eastern Canadian Arctic.
Fortune, S. M. E., B. G. Young and S. H. Ferguson. 2020.
Polar Biology 43:1725-1744.

abstract
As an annual ice-associated species, bowhead whales (Balaena mysticetus) are known to move northward in mid-to-late March and southward in early winter while following the annual cycle of sea ice decay and formation. We sought to determine when and where different demographic groups of Eastern Canada-West Greenland bowhead whales foraged throughout their range and what seasonal patterns occurred in their migratory and residency behaviour over a 16-year time period (2001-2016). Fifty-nine bowhead whales were equipped with satellite telemetry tags and hierarchical switching-state-space models (HSSSM) were used to infer probable foraging and travelling behaviour. Overall, 18,294 locations were predicted with the HSSSM and 70% of the locations (n = 12,784) were associated with probable foraging behaviour and 15% (n = 2709) included movements consistent with travelling behaviour. Both males and females were found to reside in Hudson Strait during winter. Females showed a slight preference for more northern regions (e.g. Gulf of Boothia) for feeding during summer compared with males who appeared to spend more time in more southern foraging grounds (e.g. Cumberland Sound). Females in Gulf of Boothia were significantly larger than females in Cumberland Sound but males were of comparable sizes in both regions. Lancaster Sound had the lowest occupancy, representing less than 0.8% of all HSSSM locations (n = 154) suggesting that this area may not be preferred by subadult male or female bowhead whales. Understanding whale movement behaviour will assist in anticipating patterns in distribution shifts associated with warming.


---

Predator-prey interactions between harbour seals (Phoca vitulina) and Pacific salmon Oncorhynchus spp.) in the Salish Sea.
Nelson, B.W. 2020.
In Department of Zoology. PhD thesis, University of British Columbia, Vancouver. 209 pages

abstract
Populations of Chinook (Oncorhynchus tshawytscha) and coho salmon (O. kisutch) have experienced significant declines in abundance and productivity over the last 50 years in the Salish Sea as harbour seals (Phoca vitulina) recovered from hunting and culling. Some have hypothesized that increased predation by seals may be responsible for the declines in salmon survival, and their failure to recover after reductions in fishing effort. However, it is not known if these correlations exist for every population of salmon in the Salish Sea, or how many young Chinook and coho salmon are consumed by seals each year. I developed mathematical and statistical models to investigate the potential causal relationship between seal predation and declines in Chinook and coho salmon populations in the Salish Sea. I also used simulation modeling to evaluate outcomes that may result if managers reduced British Columbia's harbour seal population to promote the recovery of salmon populations. I found that harbour seal densities were strongly negatively associated with productivity of most wild Chinook salmon populations in the Salish Sea and Washington Coast that were included in the study. Integrating recently collected seal diet data with a novel predation model indicates that large numbers of juvenile Chinook and coho salmon are eaten by seals, and that predation-related mortality has likely increased significantly over the last 50 years. The results of my simulation model suggest both lethal removals and contraception could reduce the seal population, but that important tradeoffs exist between the two approaches. Overall, my findings increase understanding of the role that marine mammal predation plays in the early marine life stage of juvenile salmon, and identifies potential outcomes and tradeoffs of actively managing predator populations.

keywords predation, harbor seal, salmon, coho, Chinook, culling, hunting, modelling, hatcheries, diet, contraception, juvenile salmon, smolts, management

---

Predator control on land and at sea: a call for common standards of assessment.
Nunny, L., C. Bautista, S. Palazón, A.W. Trites, D. van Liere, and M.P. Simmonds. 2020.
Carnivore Prevention Damage News. 20:13-19.

abstract
Carnivores come into conflict with humans when they cause damage to livestock, crops and other prop­erty. However, conflict is not only a land-based issue. As in terrestrial settings, human-wildlife conflict in the marine environment can have signif­icant financial repercussions and present animal wel­fare issues. To encourage sharing of knowledge on alternative approaches to managing wildlife conflict situations, a work­shop entitled Predator controls: lessons from land to sea was convened at the World Marine Mammal Con­ference in Barcelona, Spain in December 2019. Workshop participants concluded that: 1. Whilst there appears to be little transfer of an­ti-predator technologies between land and sea, people who farm and fish have common issues in­cluding ensuring the effectiveness of the measures deployed. This warrants a formal assessment of the common issues and solutions and a proper assess­ment of their welfare implications. 2. The welfare implications of conflict mitigation methods concerned many attending the workshop. How control methods impact predator welfare de­pends on the method used and how it is applied. 3. Standard protocols to assess the welfare and effec­tiveness of conflict mitigation techniques need to be developed and endorsed by the international community and could apply equally to land and sea situations. The approach used by Sharp and Saunders (2011) was noted as promising, as is the welfare assessment tool developed by the Interna­tional Whaling Commission. 4. Reducing conflict requires a thorough under­standing of the situation, including socio-eco­nomic aspects, determining whether the conflict is limited to individual problem animals or is more pervasive and evaluating how the problem at the site has developed. In addition, it is necessary to determine whether the conflict is more prevalent at a particular time of year, in a particular location or under certain ecological conditions or geopo­litical circumstances. Conflict resolution requires gathering as much in­formation as possible about the conflict in order to take appropriate actions and is an area where marine experts can learn from the experiences of terrestrial experts and vice versa. For this reason, providing plat­forms to marine and terrestrial experts to exchange knowledge and experience can benefit the conser­vation and welfare of wild predators on land and in the sea.


---

Resting and swimming metabolic rates in juvenile walruses (Odobenus rosmarus).
Rosen, D.A.S. 2020.
Marine Mammal Science, DOI: 10.1111/mms.12743

abstract
Changes in Arctic ice conditions have raised concerns regarding potential impacts on energy expenditure and food requirements of walruses. Modelling the repercussions of environmental changes requires accurate species-specific measures of bioenergetic expenditures. This is particularly true for walruses, who have a unique anatomy and foraging ecology from other pinnipeds. This study measured resting metabolic rate (RMR) and subsurface swimming metabolism in two juvenile walruses over a 13-month period. The walruses had relatively low RMR compared to studies of other young pinnipeds. RMR was greater for the male than the female, as expected given his larger size; the reverse was true on a mass-specific basis. There was also considerable variability in RMR for each walrus during the year that could not be accounted for by changes in body mass. Metabolism while swimming was about twice RMR, and locomotor costs were higher than generally predicted for other marine mammals. The lower calculated swimming efficiency may reflect the fact that walruses are not "high velocity" pursuit predators. The estimates of metabolic expenditure obtained in this study for young walruses are invaluable for quantifying the energetic consequences of behavioral changes induced by environmental shifts in the wild.

keywords bioenergetics, metabolism, swimming, walrus

---

Predation by Pacific great blue herons on juvenile salmon.
Sherker, Z.T. 2020.
In Resources, Environment, and Sustainability. M.Sc. Thesis, University of British Columbia, Vancouver. 68 pages

abstract
An array of foragers prey on salmon in rivers and estuaries while salmon smolts out-migrate from their natal streams-and may account, in part, for the poor returns of adult salmon to the Salish Sea. However, the Pacific great blue heron (Ardea herodias fanning) has not been identified as a predator of smolts despite being regularly seen near salmon streams. I investigated the role that herons may be playing in the depredation of salmon by scanning fecal remains under heron nests for Passive Integrated Transponder (PIT) tags that had been implanted in wild and hatchery-reared salmon smolts from 2008-2018. These nests were located in three heron rookeries that were within 35 km of the mouth of the Cowichan, Big Qualicum, and Capilano Rivers. Using a mobile PIT antenna, I recovered 1,199 smolt tags, representing a minimum annual predation rate of 0.3-1.3% of all smolts in the three rivers. Correcting for tags consumed by herons and defecated outside of the rookery raised the estimated proportion of smolts to 0.7-3.2% of the outmigrating fish, but predation rates as high as 6% were documented during a low river-flow year in the Cowichan River. The distribution and timing of tag depositions under the heron nests indicated that most great blue herons prey on salmon smolts and that consumption occurs in late spring during the chick-rearing phase of the breeding season. Energetic analyses suggest that smolt consumption provides a substantial proportion of the heron chick diet during a time of peak energy demand. Predation on smolts occurred primarily in the lower rivers and upper estuaries. Smaller salmon smolts were significantly more susceptible to heron predation in all systems, and predation rates were comparable between wild and hatchery-reared smolts. Recovering so many tags from smolts at heron rookeries was unexpected and indicates that great blue herons are a new predator of wild and hatchery-reared juvenile salmon. Locations of heron rookeries relative to salmon bearing rivers are likely good predictors of heron impacts on local salmon runs, and a potential means to assess coast-wide effects of great blue herons on salmon recovery.



2019

A mechanistic approach to predicting suitable foraging habitat for reproductively mature North Atlantic right whales in the Gulf of St. Lawrence, Canada.
Gavrilchuk, K., V. Lesage, S. Fortune, A.W. Trites, and S. Plourde. 2019.
Canadian Science Advisory Secretariat (CSAS), Research Document 2019/034 pp. 51

abstract
The North Atlantic right whale (Eubalaena glacialis, NARW) is an endangered cetacean which faces population decline from anthropogenic activities. Climate change may also be adding pressure on population recovery by shifting distribution of their preferred prey, Calanus copepods. The Gulf of St. Lawrence (GSL) in eastern Canada has been used as a foraging ground by a large proportion of the NARW population in recent years (at least from 2015 to present). Given the motivation to better understand NARW contemporary habitat use patterns and propose recovery measures for this population, we used a mechanistic modeling approach to predict areas that hold foraging potential in the GSL. We first assessed the overall annual energetic costs incurred by an adult female NARW in one of three reproductive states, and determined the theoretical prey densities required to sustain energy demand. We used a 12-year data set describing the abundance and three-dimensional distribution of late-stage Calanus copepods in the GSL coupled to a foraging bioenergetics model to identify potentially suitable foraging areas for NARW. Results show interannual variations in the spatial distribution and quantity of suitable habitat, with a decreasing amount of habitat available for resting, pregnant and lactating females, respectively. Suitable prey densities for foraging NARW were found in nearly all areas of the GSL that were surveyed for copepods, in one year or another, with a greater frequency of suitable prey densities identified in the southern GSL. Yearly maps of suitable foraging habitat for NARW were superimposed to identify areas that showed temporal persistence; the southern GSL (from Shediac Valley east to the Magdalen Islands) had suitable prey densities for all three reproductive states in most (≥ 6) years of the study period. For resting and pregnant females, other potential areas of foraging importance included offshore of Chaleurs Bay as well as the southern slope of the Laurentian Channel north of the Magdalen Islands. These findings highlight areas where NARWs may occur based on habitat modelled foraging value, and emphasize the need to survey offshore, under-studied regions in the GSL to better characterize NARW occurrence and habitat use patterns.


---

The genome of the Steller sea lion (Eumetopias jubatus).
Kwan, H.H., L. Culibrk, G.A. Taylor, S. Leelakumari, R. Tan, S.D. Jackman, K. Tse, T. MacLeod, D. Cheng, E. Chuah, H. Kirk, P. Pandoh, R. Carlsen, Y. Zhao, A.J. Mungall, R. Moore, I. Birol, M.A. Marra, D.A.S. Rosen, M. Haulena and S.J.M. Jones. 2019.
Genes Vol 10(486):doiorg/103390/genes10070486.

abstract
The Steller sea lion is the largest member of the Otariidae family and is found in the coastal waters of the northern Pacific Rim. Here, we present the Steller sea lion genome, determined through DNA sequencing approaches that utilized microfluidic partitioning library construction, as well as nanopore technologies. These methods constructed a highly contiguous assembly with a scaffold N50 length of over 14 megabases, a contig N50 length of over 242 kilobases and a total length of 2.404 gigabases. As a measure of completeness, 95.1% of 4104 highly conserved mammalian genes were found to be complete within the assembly. Further annotation identified 19,668 protein coding genes. The assembled genome sequence and underlying sequence data can be found at the National Center for Biotechnology Information (NCBI) under the BioProject accession number PRJNA475770.

keywords Steller sea lion, genetics

---

Wild Chinook salmon productivity is negatively related to seal density, and not related to hatchery releases in the Pacific Northwest.
Nelson, B.W., C.J. Walters, A.W. Trites, and M.K. McAllister. 2019.
Canadian Journal of Fisheries and Aquatic Sciences 76:447-462.

abstract
Predation risk and competition among conspecifics significantly affect survival of juvenile salmon, but are rarely incorporated into models that predict recruitment in salmon populations. Using densities of harbour seals (Phoca vitulina) and numbers of hatchery-released smolts as covariates in spatially-structured Bayesian hierarchical stock-recruitment models, we found significant negative correlations between seal densities and productivity of Chinook salmon (Oncorhynchus tshawytscha) for 14 of 20 wild Chinook populations in the Pacific Northwest. Changes in numbers of seals since the 1970s were associated with a 74% decrease (95% CI: -85%, -64%) in maximum sustainable yield in Chinook stocks. In contrast, hatchery releases were significantly correlated with Chinook productivity in only one of 20 populations. Our findings are consistent with recent research on predator diets and bioenergetics modeling that suggest there is a relationship between harbour seal predation on juvenile Chinook and reduced marine survival in parts of the eastern Pacific. Forecasting, assessment, and recovery efforts for salmon populations of high conservation concern should thus consider including biotic factors, particularly predator-prey interactions.

keywords salmon, seal density, hatchery

---

Post-dive gas recovery and the transition between metabolic states as physiological limits to diving in Steller sea lions (Eumetopias jubatus).
Purdy, A.S. 2019.
In Zoology. M.Sc, University of British Columbia, Vancouver, BC. 78 pages

abstract
Marine mammal diving behaviour is influenced by multiple physiological processes, both at depth and at the surface. To date, the majority of research in diving physiology has focused solely on how quickly marine mammals utilize their O2 during a dive, as seen in the numerous studies of the aerobic dive limit (ADL) and calculated aerobic dive limit (cADL). In this thesis I investigated other physiological limits, namely how long it takes for marine mammals to recover after a dive, and how these animals transition between aerobic and anaerobic metabolism at depth. Specifically, I 1) determined how post-dive rates of O2 and CO2 gas exchange are affected by dive behaviour, and 2) measured how lactate accumulates with increased dive time, and examined how this indicator of metabolic transition affected post-dive recovery times. To measure gas exchange, I used flow-through respirometry to determine the time required for Steller sea lions (Eumetopias jubatus) to reach within 5% of stable rates of O2 uptake and CO2 excretion following a dive. These times were interpreted as the O2 and CO2 recovery times, respectively. CO2 recovery time was longer and became more extended with increasing dive time when compared to O2, requiring an extra 44 sec per minute submerged for CO2 as opposed to 33 sec per minute submerged for O2. This indicates that recovery time was limited by CO2 as opposed to O2, and this difference became greater with increased dive time. Contrary to traditional models, plasma lactate concentration was present even after short dives, and increased linearly with dive duration. Neither O2 nor CO2 recovery rates were affected by levels of blood lactate. This indicates that anaerobic metabolism may be used long before the body's total O2 stores have been consumed. These results support the idea that there is not a distinct threshold between aerobic and anaerobic pathways, but rather a progressive transition, which casts doubt on the usual interpretations of the ADL and cADL. My thesis challenges long-held assertions in diving physiology, and underlines the need to further examine how CO2 and lactate accumulation may act as limits to diving behaviour.

keywords Steller sea lion, metabolism, foraging

---

Evaluating cardiac form and function in marine mammals.
Storlund, R.L. 2019.
In Zoology. M.Sc. Thesis, University of British Columbia, Vancouver. 86 pages

abstract
The hearts of marine mammals frequently sustain marked changes in heart rate and vascular resistance when diving. However, it is not known how marine mammal hearts facilitate these changes. I examined cardiac function and electrical activity of marine mammal hearts to understand how they might differ from terrestrial mammals. I measured electrocardiographic parameters in 8 Steller sea lions, 5 northern fur seals, and 1 walrus-and echocardiographic function in all 8 Steller sea lions. I also compiled electrocardiographic parameters from 17 species of marine mammals (including my measurements) for comparison with 50 species of terrestrial mammals. I found that atrial and ventricular depolarization are slower in marine mammals after accounting for differences in body mass-and that the left ventricle of Steller sea lions contracts less than expected for a mammal of that size. These differences in cardiac timing and function may reflect specialized adaptations for diving. Electrocardiographic measurements of Steller sea lions, northern fur seals, and a walrus also varied between species and among the individuals of each species. For example, sinus arrhythmias occurred in 5 out of 8 individual Steller sea lions, but not in northern fur seals or the walrus. Mean electrical axes were also unique to each individual and varied greatly. Measurements ranged from -124° to 80°-with 3 of the Steller sea lions having extreme right axis deviation (-111° to -124°). Echocardiographic measurements showed that left ventricular form was similar between Steller sea lions and terrestrial mammals, except that Steller sea lions have larger aortic roots and larger left ventricular end-systolic dimensions than terrestrial mammals. Overall, my results show that marine mammals have functionally similar hearts to terrestrial mammals with a number of notable differences that likely support anatomical adaptations to diving.


---

Marine mammal trophic levels and interactions.
Trites, A.W. 2019.
In J.K. Cochran, P.L. Yager and H.J. Bokuniewicz (eds.), Marine life, Encyclopedia of ocean sciences, Academic Press, London. 2:589-584.

abstract
Calculating trophic levels is a necessary first step to quantify and understand trophic interactions between marine mammals and other species in marine ecosystems. This can be achieved using dietary information collected from stomachs and scats, or by measuring isotopic ratios contained in marine mammal tissues. These data indicate that marine mammals occupy a wide range of trophic levels beginning with dugong and manatees (trophic level 2.0), and followed by baleen whales (3.35), sea otters (3.45), seals (3.95), sea lions and fur seals (4.03), toothed whales (4.23) and polar bears (4.80). With the aid of ecosystem models and other quantitative analyses, the degree of competition can be quantified, and the consequences of changing predator-prey numbers can be predicted. These analyses show that many species of fish are major competitors of marine mammals. A number of field studies have also shown negative effects of reduced prey abundance on body size and survival of marine mammals. However, there are fewer examples of marine mammal populations affecting their prey due perhaps to the difficulty of monitoring such interactions, or to the complexity of most marine mammal food webs


---

Synthesis of scientific knowledge and uncertainty about population dynamics and diet preferences of harbour seals, Steller sea lions and California sea lions, and their impacts on salmon in the Salish Sea.
Trites, Andrew W. and D.A.S. Rosen. 2019.
Technical Workshop Proceedings. May 29-30, 2019, Marine Mammal Research Unit, University of British Columbia Vancouver, BC. pp. 67

abstract
This workshop assembled scientists and managers with technical expertise on seals, sea lions, and salmonids to identify and evaluate knowledge and uncertainties about the diets and population dynamics of pinnipeds (harbour seals, Steller sea lions, and California sea lions), as well as the impacts that pinnipeds may be having on salmonids in British Columbia and Washington State waters. The primary focal area was the Salish Sea, but included coastal Washington and British Columbia. Pinniped impacts in the Columbia River basin were not addressed. The workshop focused on what is known about predation by seals and sea lions on salmon-and how assumptions and uncertainties in the data affect the conclusions drawn to date about the effect of pinnipeds on salmon. This workshop was a first step in bringing together scientists and managers with pinniped and salmon expertise from Canada and the United States to identify and evaluate the impact that pinnipeds may be having on salmonids. It has identified the major knowledge gaps and need for focused research to address the key uncertainties that prevent drawing definitive conclusions about the role that pinnipeds play in the Salish Sea and their impact on other important ecosystem components such as salmon.

---
---
MMRU on INSTAGRAM