Research A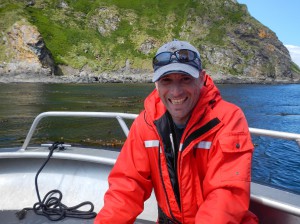 ssistant/Technician
Tel: 604.822.8183
Fax: 604-822-8180
email: m.davies@oceans.ubc.ca
Education: BSc Natural Resource Management – Wildlife and Fisheries (University of Northern British Columbia 2002)
Biography: Over 12 years' experience as a research assistant and biological technician in both field and laboratory environments including: Research Assistant/Technician (MMRU 2004 – Present), Marine Mammal Observer–MMO (Triton Environmental 2013), Field Assistant (B.C Ministry of Environment-Fisheries and Aquatic Conservation Section 2012), and a Federally certified 'At-Sea' commercial fisheries observer (Archipelago Marine Research Ltd. 2003-2004).  My current position with the MMRU has expanded my skills and competence within field, laboratory and office based environments. I provide technical support and services for professors, research associates, post-graduate students and collaboration with other public and governmental agencies as well as other academic institutions. This support and service includes database management, sample and equipment inventories, determining and writing operating protocols (SOP's) and contributing to 'in-house' field trip reports and permit reports for MMRU Director and Manager.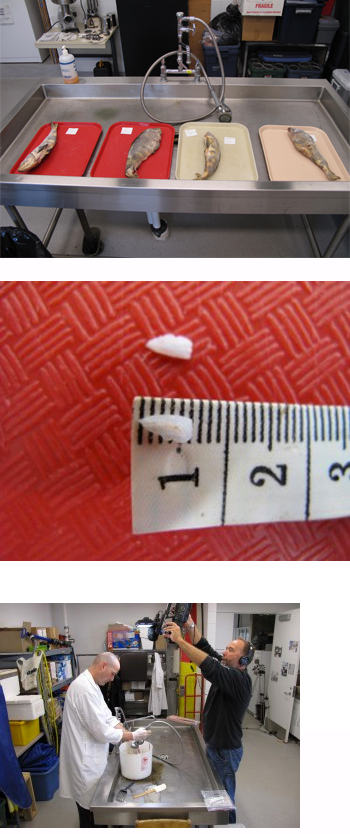 Laboratory: Manage the daily operations of the MMRU research labs (UBC Fisheries Centre). Train and manage a team of undergraduate volunteers in various lab equipment and duties. Space Includes: 2 wet labs (MMRU research wet lab and general research wet lab), walk-in freezer, freezer room with smaller units and 2 storage rooms for lab and field supplies.

Lab duties Include:
-Determination of sample energy content (primarily fish) using oxygen bomb calorimeter.
-Processing marine mammal scat for hard/bony structures and genetic material (ID bones & DNA)
-Hormone sub-sampling.
-Fish & marine mammal stomach & intestinal content investigation.
-Fish sampling (otolith removal for aging, gonad removal (for development of index), length and mass.
-Develop, test and write standard operating procedures (SOP) for sampling methods, equipment operation and maintenance.
-Specimen display and presentation for visiting school groups.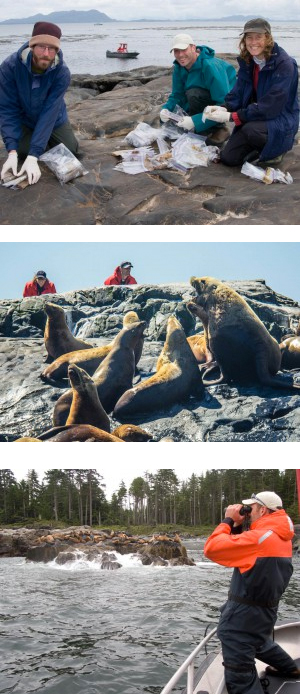 Field:
Responsible for logistics, sample collection and personnel training for marine mammal biological and observational
surveys along the coasts of British Columbia, Vancouver Island, Haida Gwaii and South East Alaska.
Survey objectives nclude animal behaviour observations and abundance counts, behaviour observations and abundance counts, biological sampling, resighting marked animals and recording/identifying all marine mammal occurrences.
Licenses/Certificates:
Pleasure Craft Operator Card. Canadian Coast Guard Accredited. 0440020940
Restricted Operators Certificate (Marine). Canadian Power and Sail Squadrons. 019560DAV
UBC Animal Care Certificate. Canadian Council on Animal Care (CCAC)/National Institutional Animal User Training (NIAUT) Program Certificate #: 2443-07
Workplace Hazardous Materials Information System (WHMIS) Training. UBC Risk Management Services. 2014
Laboratory Biological Safety Course. UBC Risk Management Services. 2014
Receiving Class 7 Radioactive Materials Course. UBC Risk Management Services. 2014
Chemical Safety Course. UBC Health, Safety and Environment. 2004
Laboratory Biological Safety Course. UBC Risk Management Services. 2014
Local Health & Safety Committee Training Course. UBC Risk Management Services. 2014
Preventing and Addressing Workplace Bullying and Harassment. UBC Risk Management Services. 2014
Responsible Beverage Service Program: 'Serving it Right' (British Columbia). 2000
Class 5 driver's license (British Columbia).
Other:
Non Union Technician Representative (Alternate). UBC Health & Safety Committee. 2013-Present
Fire Warden. AERL (Aquatic Ecosystems Research Laboratory)/UBC Fisheries Centre Health & Safety Committee. 2011 to Present