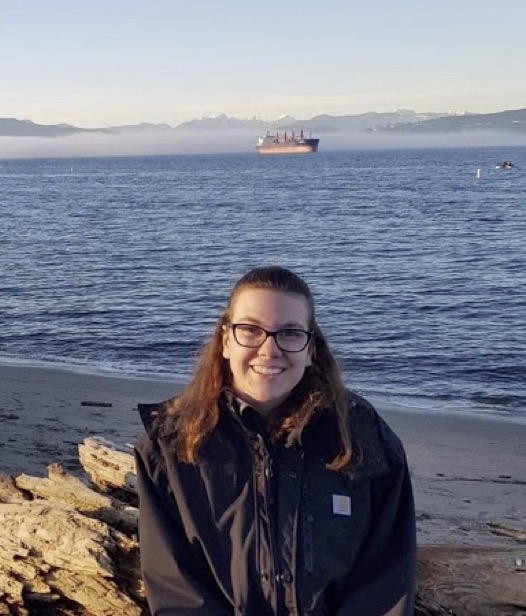 MSc Candidate
Email: k.colson@oceans.ubc.ca
Co-supervisors: Dr. Andrew Trites (University of British Columbia) and Dr. Leigh Torres (Oregon State University)
Education: (2020) B.Sc. Honours in Biology, Marine Biology Option, University of British Columbia, Vancouver, BC
Master's Research: Estimating prey requirements of the Pacific Coast Feeding Group of grey whales in Oregon, Washington, and British Columbia waters
The Pacific Coast Feeding Group of grey whales is a subset of the Eastern North Pacific grey whale population that cuts their northern migration short to feed in the waters along the Northwest Coast of North America, instead of continuing north to feed in the Arctic. This endangered population is comprised of ~250 individuals and faces many threats such as coastal expansion that decreases foraging habitat and vessel traffic that reduces grey whale foraging time. One way to assess and mitigate these threats, as well as project the capacity of the coastal waters of BC, WA, and OR to support the PCFG population now an in the future, is through bioenergetic modelling to predict consumption requirements of this population. Kate will build a bioenergetics model for the PCFG grey whale population that includes field-collected data on foraging energetics and prey availability in the PCFG foraging range. The consumption requirements for the PCFG population will be used to determine how many grey whales can be supported in PCFG foraging grounds now and into the future using climate models that detail changes in prey availability.
Additional Research: Estimating food consumption of marine mammals in the North Pacific
Marine mammal consumption can be estimated in one of two ways— (1) through captive feeding studies or (2) by building complex bioenergetics models with many parameters. However, for many marine mammal species both these methods are impractical given the difficulty of keeping the species in captivity and the lack of basic data on the species. Therefore, a general consumption model must be used. Kate is building general consumption models to estimate prey and energy requirements of marine mammals as a function of their cost of living using recent bioenergetics data published in the literature. She hopes to apply these models to estimate and compare food consumption of marine mammals in the North Pacific between historic periods and seasons. These comparisons will help inform fisheries management decisions and bring insight to concerns of fisheries competition between humans and marine mammals.