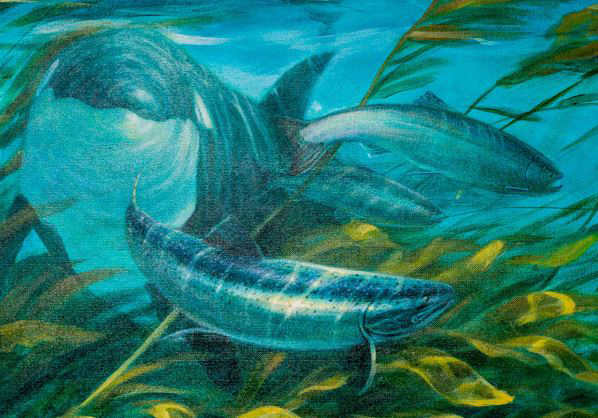 Oil painting "Hide and Seek" by Bruce Muir (2017) showing a southern resident killer whale pursuing Chinook salmon.
Workshop held on the availability of prey for southern resident killer whales
What can be done to make more salmon available to southern resident killer whales?
In November 2017, the UBC Marine Mammal Research Unit hosted a workshop with Canadian and US scientists and managers with technical expertise on killer whales and Chinook salmon.
The goal of the workshop was to identify and evaluate short-term management actions that might increase the immediate abundance and accessibility of Chinook salmon for southern resident killer whales (SRKW), given the current size of Chinook salmon stocks.
The workshop did not consider ways of producing more Chinook salmon (which will be the subject of a subsequent workshop), but rather considered ways of making more of the fish that are presently in the ocean available to southern resident killer whales.
Workshop participants presented and discussed technical information on the prey requirements of SRKW, the availability of Chinook salmon, and current protections for SRKW. Participants then split into four groups with an even distribution of expertise to evaluate three potential non- exclusive Management Actions:
A. Increase the abundance of Chinook for SRKW by reducing coast-wide fishery removals;
B. Increase the abundance of Chinook for SRKW by adjusting fishery removals at specific times and in specific areas of SRWK habitat; and
C. Increase the accessibility of Chinook by decreasing underwater noise and the physical presence of vessels where SRKW forage.
Based on the current state of knowledge and best available data, workshop participants had higher confidence in the effectiveness of Action C (limiting vessel disturbances to make the Chinook that are already present easier for SRKW to catch) than they did in increasing the abundance of Chinook by closing or adjusting fisheries (Actions A & B).
With >900 stocks of Chinook salmon migrating through BC waters at different times and strengths, there is currently insufficient evidence to support being able to surgically manage fisheries to avoid catching the stocks destined for SRKW habitat. Nor is there evidence that fishery reductions would add significant numbers to the estimated 600,000 Chinook thought to currently move through inside waters to Puget Sound and the Fraser River.
---
Contents | Into the Field | From the Lab | Science Outreach |  Science Inreach | This Just In |