Diving into beer and suds — marine mammal style!
Beer and biology are well known associates on an individual level, and were recently shown to go especially well together at an institutional level at the University of British Columbia.
As part of Alumni Weekend, North Coast Brewing Company hosted a beer-tasting session at UBC's Fisheries Centre. The event showcased North Coast's support of UBC's Marine Mammal Research Unit and exposed members of the University community to the products of this California-based microbrewery.
Guests listened to a brief presentation by Mark Ruedrich (President and Brewmaster of North Coast Brewing) and Dr. Andrew Trites (MMRU Director) before sampling four different beers and learning about their production. Two of their beers have a particularly strong connection to marine mammals — Scrimshaw Pilsner and Red Seal Ale, and a special edition of Steller IPA is on its way.
It was the striking sea lion on the Red Seal label that led UBC Research Technician Brandon Russell to contact North Coast Brewing two years earlier.   Brandon works at the Open Water Research Station with Steller sea lions that are trained to swim in the open ocean to collect data needed to determine why numbers are declining in Alaska.  He called the Brewery to talk about sea lions and was put through to Mark, a zoology alumnus from NC State University. Mark moved to Fort Bragg on the Mendocino coast to pursue a career in marine biology, and ended up starting the brewery in 1988.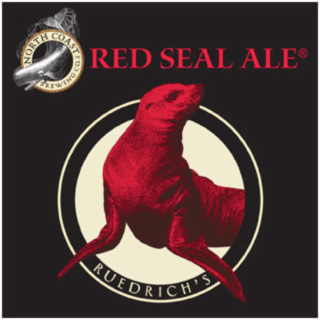 Visits between Fort Bragg and Vancouver have uncovered many parallels between running a brewery and operating a research station. They have also brought together a great group of people with common values and passions about beer, marine mammals and the health of our coastal waters.
Thank you North Coast Brewing for your support of the Marine Mammal Research Unit. We look forward to working together and continuing to pair beer and biology!
---