MSc Student
IRES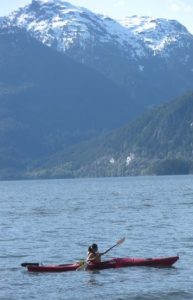 Tel: 604.822.8181
Fax: 604.822.8180
E-mail: s.agbayani@oceans.ubc.ca
Supervisor: Dr. Andrew Trites
Education: BSc. Forest Sciences, Adv. Dipl. GIS
Research Interests: marine mammals, foraging ecology, bioenergetics, conservation, cumulative effects, climate change
Research Area: Eastern Pacific
---
Modelling gray whale migration routes and foraging habitat in the face of climate change
---
Problem
Gray whales (Eschrichtius robustus) are an iconic species historically important to the cultural and subsistence needs of a number of native communities in the United States and Russia. They are known to have the longest migration of the great whales, wintering in the warm waters of Baja, Mexico, then traveling north along the coast of North America through Alaskan waters, to summer in the Chirikov Basin and the Chukchi Sea. Much is known about their general migration routes, and some information is available about their foraging ecology and preferred prey species. However, relatively little is known about key foraging habitat along the migration routes, minimum energetic requirements for feeding during summer to sustain the migration to and from Alaska, the effect of climate change on available prey, and the associated effect on their ability to meet the minimum energy requirements for migration. I will address these shortcomings using mathematical models that incorporate spatial and temporal data (i.e. bathymetry, benthic substrate, presence of oceanographic fronts, distributions of preferred prey species, minimum prey requirements to support annual migrations, and whale observation data) to predict the potential distribution and abundance of gray whales as they travel along the coast during the northbound migration. The results, based on current and projected distributions of benthic prey, will be plotted on maps at weekly time steps showing densities and distributions of each cohort of whales and associated energy requirements. My findings will assist managers and marine spatial planners in prioritizing critical foraging areas for special management or protection, identifying areas of potential conflict with human activities, and improving managers' abilities to forecast and respond to the effects of climate change. This research will also foster cooperation and collaboration between agencies across international jurisdictions, and encourage coordinated efforts towards effective ecosystem-based management.
Publications
Agbayani, S, Picco CM and HM Alidina. 2015. Cumulative impact of bottom fisheries on benthic habitats: a quantitative spatial assessment in British Columbia, Canada. Ocean and Coastal Management 116:423-434.
Clarke Murray C, S Agbayani, N Ban. 2015a. Cumulative effects of planned industrial development and climate change on marine ecosystems. Global Ecology and Conservation 4:110-116.
Clarke Murray C, S Agbayani, N Ban, HM Alidina. 2015b. Advancing marine cumulative effects mapping: An update in Canada's Pacific waters. Marine Policy 58:71-77.
Ewins, PJ, KA McDonald, & S Agbayani. 2014. The WWF Species Action Plan for Arctic Whales, 2014-2020. WWF Global Arctic Programme, Ottawa, Canada.
Okey, TA, HM Alidina, S Agbayani. 2015. Mapping ecological vulnerability to climate change in Canada's Pacific marine ecosystems. Ocean and Coastal Management 106:35-38.
Reeves RR, PJ Ewins, S Agbayani, MP Heide-Jørgensen, KM Kovacs, C Lydersen, R Suydam, W Elliott, G Polet, Y van Dijk, R Blijleven. 2014. Distribution of endemic cetaceans in relation to hydrocarbon development and commercial shipping in a warming Arctic. Marine Policy 44:375-389.
WWF Global Arctic Programme. 2012. Important Marine Areas in the Arctic. [Atlas] Maps created by S Agbayani.