PhD Candidate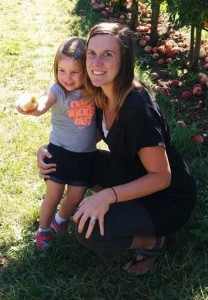 Tel: 604.822.8181
Fax: 604.822.8180
E-mail: r.neuenhoff@oceans.ubc.ca
website:  ca.linkedin.com/pub/rachel-neuenhoff/14/6/881/
Education: BSc Marine Biology, Texas A&M University at Galveston; MSc Wildlife and Fisheries Sciences, Texas A&M University; PhD Zoology, UBC (current)
Research Interests: population dynamics, size-at-age and cohort studies, predator-prey relationships, fisheries science
Research Area:
Gulf of St. Lawrence
---
Research:  Atlantic cod (Gadus morhua) stocks along eastern Canada collapsed in the early 1990s, and have not recovered in spite of several long-running moratoria on commercial fishing.  Mounting evidence suggests that natural mortality, and possibly predation by grey seals (Halichoerus grypus) has prevented stock recovery in the southern Gulf of St. Lawrence.  The primary goal of my research is to apply single and multi-species modeling approaches to evaluate covariates of variable natural mortality .  Management decisions that may stem from such model predictions to mitigate increased natural mortality on cod may have uncertain consequences for the southern Gulf ecosystem, depending on the factors driving variable natural mortality of Atlantic cod.  A secondary research goal is to explore and evaluate different management strategies to rebuild cod stocks to target reference points within practical biological and economic timeframes.  My research will contribute to understanding the population dynamics and predator-prey relationships of a collapsed fishery in the absence of fishing pressure. It will also provide a means to synthesize and compile several sources of uncertainty about biological and socioeconomic states of nature into fisheries management.
Current and Recent Projects:
Maritime Fishing Survey (Completed) – I am currently recruiting interested fishermen to participate in a survey regarding their personal observations and experiences with grey seals while commercially fishing along Atlantic Canada. For additional information, please visit http://maritimefishingsurvey.wordpress.com/about/ or send a message to our project email: greysealcodsurvey@gmail.com to receive a copy of the questionnaire. You may be required to answer quality control questions to verify your involvement in the fishing industry.
Predator-prey relationships and enhancement options for Atlantic cod in the southern Gulf of St. Lawrence in eastern Canada (ongoing).  To what extent does predation inhibit stock recovery of north Atlantic cod in the Gulf of St. Lawrence?  What types of functional responses can we expect?  What suggestions can we make to management to mitigate for these effects and enhance the fishery given the biological uncertainty?
Evidence of iteroparity in Snake River summer-run steelhead (Oncorhynchus mykiss) from scale patterns (Completed).  We used scale wear patterns and traditional scale aging methodology to demonstrate steelhead iteroparity and rates of occurrence in the upper Columbia River.  Tagged known age fish crossing Lower Granite Dam will be used to validate the use of reproductive checks to measure iteroparity rates.      
Prenatal data impacts common bottlenose dolphin (Tursiops truncatus) population parameters estimated by length-at-age curves (Completed). 
Compilation of marine mammal demographic data is central to management efforts. However, marine mammal length-at-age growth curves demonstrate limitations. Physiological growth parameters of terrestrial mammals are typically estimated using curvilinear models fit to size-at-age data along a time series from conception to senescence.  We addressed this gap in the data using salvage, stranded, late-term, fetuses from common bottlenose dolphins (Tursiops truncatus) along coastal Texas.  Using Huxley's allometry, and known fetal growth relationships from measurements taken during ultrasonic examinations of healthy pregnancies, we fit biparietal diameter to gestational age data to create a model to estimate gestational age of fetuses stranded along coastal Texas.
---
---

Selected Publications & Links:

Neuenhoff, RD, DF Cowan, H Whitehead, CD Marshall. 2010. Prenatal data impacts common bottlenose dolphin (Tursiops truncatus) population parameters estimated by length-at-age curves.  Marine Mammal Science. 27(1):195-216.

INSTITUTE FOR THE OCEANS AND FISHERIES